Amy and Dave's Featured Wedding

How they met: Amy and Dave were introduced to each other by Amy's best friend. Dave was "pre-approved," and her perfect match.
How he proposed: The couple was strolling down Ocracoke Beach when Dave stopped and turned to Amy. He knelt on one knee, held out a ring he made from driftwood and proposed. She quickly answered "yes," and he explained her custom ordered ring wasn't ready when they left for vacation. After Dave picked up her ring he proposed again over breakfast. Now she has two engagement rings and adores them both.
Why they chose a winery wedding: Amy and Dave desired a rustic, outdoor wedding that incorporated their love of wine. The venue was an easy decision when they discovered their local winery, Sanctuary Vineyards, started hosting weddings.
Favorite wedding moments: Their dog Bentley, the ring bearer, stole the show when he trotted down the aisle before Amy and decided to relieve himself. His antics cut the nervous tension as everyone laughed.  Following a wonderful vineyard ceremony, the couple enjoyed their ideal reception with local food, a live band and the love of family and friends. Moments leading up to the cake cutting were also special, as Amy waited to see if Dave would hold true to his word and not smash cake on her face. Though everyone cheered him on, he kept it clean.
Header Photo Credit: Brooke Mayo Photography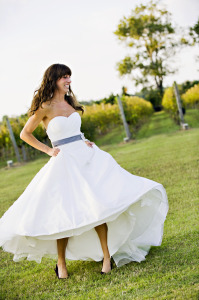 Brooke Mayo Photography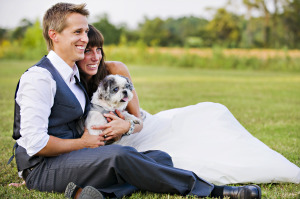 Brooke Mayo Photography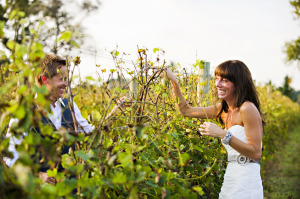 Brooke Mayo Photography
Brooke Mayo Photography