An Interview with Weddings by the Vine

Winery Weddings interviewed Kimberly Williams, owner of Weddings by the Vine, and got the low-down on her new business, popular winery-themed décor and the hottest wedding trend right now.
Q. What is Weddings by the Vine and what services do you offer?
A. Weddings by the Vine is a full-service wedding planning company. We offer complimentary planning consultations, a vineyard venue selection option, and full-service or day-of planning packages. We have coordinated events for engaged couples, including vineyard tours, a bridal show and a vow-writing workshop. We are currently planning a girlfriend's gala event.
One extremely important and unique service we offer is the venue selection option. This option provides couples with vineyard venue suggestions based on their wedding vision and personality, along with the total cost of each venue. 
We also provide a cost analysis for the couple's top venue picks, incorporating essential items like whether or not chairs and tables are included in the rental fee, if the vineyard has on-site catering, distance to the closest accommodations, parking options and the event space size, inside and out. The cost analysis also includes fees of nearby activities and attractions.
Weddings by the Vine is environmentally friendly and green certified. While vineyard weddings are our specialty, we also work with other outdoor venues.
Q. What inspired you to open Weddings by the Vine?
A. Weddings by the Vine came to fruition three years ago, inspired by my love of weddings and vineyards. After years of planning weddings at my church, working alongside other wedding planners and taking a number of classes, I gained the experience and preparation needed to open my own wedding planning company. I feel honored to be part of such a special day, entrusted to make sure everything goes smoothly.
Q. Why did you choose to specialize in vineyard weddings?
A. The beauty and tranquility of a vineyard (not to mention the handcrafted wine) has always appealed to me. During my travels across North America and Europe I made it a point to visit the closest vineyard to each travel destination. With every vineyard I visit, I find that each one has something unique to offer brides and grooms. When driving to a vineyard I know it's going to be a fun, relaxing day.
Q. What wineries do you work with?
A. We have established relationships with almost all of the winery venue owners in North Carolina. We will begin reaching out to Virginia winery owners this year, and will expand to the Napa Valley region next year.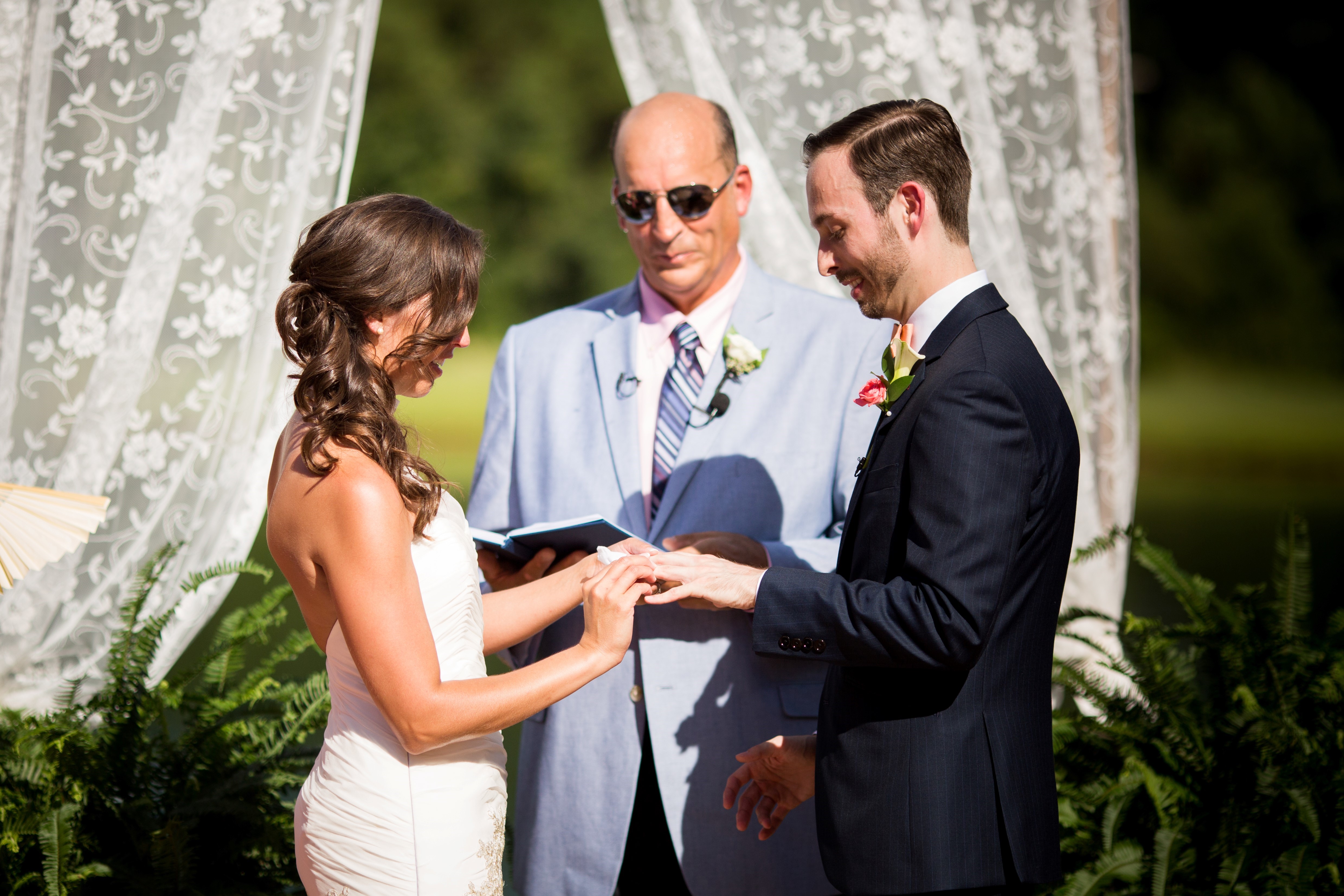 Courtesy of Weddings by the Vines
Q. What are the benefits of a winery wedding?
A. When it comes to a winery wedding just about anything goes, from an elegant black-tie affair to a more casual, relaxed event. The natural, romantic palette of a vineyard is the perfect backdrop for wedding photos and requires little added décor, decreasing the overall wedding cost. Some guests attend a vineyard wedding then make a mini-vacation out of it, increasing state tourism and promoting the buy local movement.
Q. What are the most popular winery-themed wedding décor?
A. Two-thirds of the couples we work with incorporate at least one or more wine barrel(s) in their décor, embellished with a floral centerpiece, framed photos, guest favors or the wedding cake. Chalkboards with specialty writing and vintage furniture also top the winery-themed décor list.
Q. What is the newest wedding trend?
A, Piñatas! These paper art pieces can be as elaborate as a wedding cake or engagement ring, and as simple as a heart or star. Piñata fillers such as wine glass charm favors, plastic mini-bottles of champagne or fortune cookies (to name a few) are always fun!
Q. What questions should a bride and groom ask a potential wedding planner?
A. First, inquire about past experience; the more experience the better! Also check if she is available on your wedding date, what vendors she would recommend and why. Other factors to consider include personality and pricing. Personality is extremely important if you are considering a full-service planning package.
Q. What advice would you give a newly engaged couple planning their wedding?
A. Stay calm, know your budget and keep an estimated guest count in mind!
Visit www.weddingsbythevine.com to contact Kimberly Williams of Weddings by the Vine.