DIY Cork Wine Bottle Hanging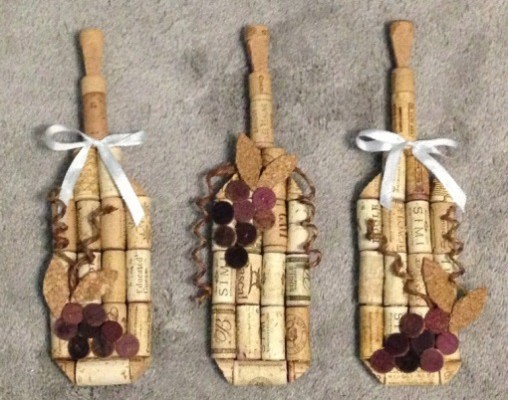 With this DIY wine cork project you have a perfect excuse to visit local wineries and experiment wine varietals. Each wine cork bottle takes about 17 corks, so drink up!
Difficulty: medium     Steps: 8
Materials
Wine corks (about 17 each)
Hot glue gun
Hot glue sticks
Knife
Plastic grapes
Silk leaves
Ribbon
Steps
1. Align and glue corks into 3 rows of 4
2. Glue the 3 rows of 4 together end-to-end to create the "bottle."
3. Glue 2 corks together; center and attach to the bottle's top row to create the "neck of the bottle."
4. Center and glue a cork vertically above the neck to lengthen it.
5. Center and glue one cork horizontally to the bottom row to create the "base."
6. Cut one cork into four angled pieces; glue pointed-size-in to the empty corners of the neck and base.
7. Taper one end of a cork using a knife; glue tapered-end-down to the neck to create the "bottle cork."
8. Decorate the bottle with plastic grapes, silk leaves and ribbon, as desired.