DIY Love Centerpieces

We love Do It Yourself Projects; especially for weddings. Depending on the project, it can be time consuming to make items for your wedding, but in an industry that is detail oriented, the details matter. DIY projects are a way to set your wedding apart from others.
We are all for designing your own centerpieces as a way to add a personal unique touch to your wedding. We have found that our couples are falling in love with the idea of words…yes, words! Beautiful letters in various scripts put together to form some of the most romantic words, decorated with various paints and textures.
For this DIY project, we designed a "LOVE" wooden display. The idea is pretty straightforward and fairly simple. Start by gathering your materials from any arts & crafts store, such as A.C. Moore or Michael's (total project budget will range from $25 – $35 per centerpiece).
HOW TO MAKE IT HAPPEN
1 - Rectangle Wooden Slab
9 inch letters, preferably Birch Rochester script
1 – Can of Rust-olene™ Primer Spray
1 – Can of Touch n' Tone™ Golden Shimmer Spray Paint
Old newspapers
Hot Glue Gun and Glue Sticks (buy the appropriate size sticks for the glue gun)
Step 1. When spray painting, it is important to read all instructions on the can. You will want to spray your wooden pieces in a well-ventilated area that is not windy. A garage or grassy area is a good idea. You also want to choose an area where you can leave the pieces to dry, undisturbed. Start by laying out the old newspapers and placing one to two wooden pieces on each sheet of paper.
Step 2. Next, prime each wooden piece. Wooden pieces are generally easy to cover with spray paint but primer assures paint adhesion to the pieces and makes the color of the paint pop! Spray a thin coat on each wooden piece, ensuring that you cover the top and sides of each piece completely. Allow a few minutes for the primer to dry and then you are ready to apply the spray paint!
Step 3. Since you will want to apply a few coats of paint, this can be the most time consuming portion of the process. Start by spraying one coat of paint on each wooden piece, ensuring that each piece is evenly covered on the top and sides.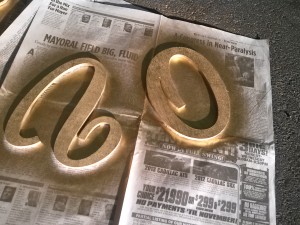 Courtesy of To the "T" Events & Catering
Allow at least 10 minutes of dry time, then apply another coat. Repeat this process one to two more times until the desired color is achieved. 
Step 4. After you have applied the coats of paint, it's time to let the paint dry. Instead of watching the paint dry (pun intended), use this time to create other centerpieces or to tackle the most daunting wedding task…the seating chart!
Step 5. Once the pieces have completely dried, you are now ready to put them together. While allowing your hot glue gun to heat up, arrange the letter pieces to overlap one another in a creative way. Once the hot glue gun has heated up, you can begin gluing the pieces together. Once you have applied the glue, apply pressure to the pieces using your hands (be careful not to burn yourself!). Once all the letter pieces have been glued together, allow a few minutes for the glue to harden and dry.
Step 6. Finally, adhere the letter pieces to your wooden slab. Allow time to dry.
*It is important to understand that the sizes of the wooden slab and letters will vary based on the size of the table/area on which the design will be displayed. For example, you will need smaller letters for a cocktail reception table and larger letters for an altar decoration.*
CHALLENGES
This project is fairly simple. The biggest challenge is the amount of time it takes, especially if designing multiple centerpieces. If you have to create multiple pieces, we suggest making this a weekend project.
THE CREATIVITY FACTOR: 4.5/6
At WW, we have a rating system for every DIY project. This system is based off of:
the complexity level

not complex (1)
somewhat complex (1.5)
very complex (2)

the uniqueness of the project

not very unique (1)
somewhat unique (1.5)
very unique (2)

the guest wow factor

Minimal wow factor (1)
Average wow factor (1.5)
Superb wow factor (2)
This project is somewhat complex due to the amount of time it could take to complete the project, but it is so worth it because it is a unique project. The guests will love the creativity of the pieces and will likely ask, "where did you get these?"
Written and contributed by To the "T" Events and Catering, the premier lifestyle event coordination and catering company based in Philadelphia, PA. To the "T" specializes in luxe weddings and upscale corporate events, as well as elegant private events.