Just Right Invite

If you're on the cusp of entering the beautiful world of wedding invitations, there is pertinent information your stationer will request from you. In order to have your invitation wording as complete as possible, make sure you know the following.
1. The quantity
If you invite 200 guests you do not need 200 invitations! Most likely, you can cut the number of invitations in half since many guests will attend as a pair, requiring only one invitation. Keep costs as low as possible by ordering the correct number of invitations and a handful of extras for last minute invites and replacements.
2. The time
Doesn't this seem obvious? It is. However, many couples have every single detail set in stone, except for the ceremony time. Until you know that, your beautiful wedding invitations will sit, waiting to be printed.
3. Your budget
If you don't have a stationery budget you can't get the most bang for your buck from the stationer. Once a dollar amount is set, it's time to think about paper and envelope options. Maybe you can even afford a higher-end printing technique like embossing! But don't set your heart on letterpress if you have a budget that's only suitable for digital printing. 
4. Your style
If you're choosing the custom design route, it's guaranteed you will be asked many questions on the style you like. Do you like more traditional invitations with fancy script writing and not much color?  Are you more attracted to a variety of whimsical designs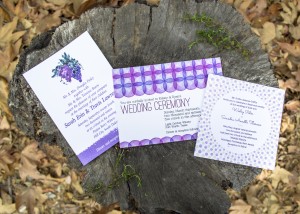 Courtesy of Wine Country Occasions
with a variety of fonts and fun elements? The worst answer is "I don't know," so be prepared with an answer.
5. The menu
A lack of menu options can also significantly hold up the production of your invitation. If you request guests to select their entrée for a sit down dinner, you'll want to include food choices on the RSVP card. Coordinating with your venue and planner about menu options for guests must be finalized prior to printing your invitations. Chicken or steak, anyone?
Invitation Timeline
5 mos. out: invitations designed, ordered and shipped
3 mos. out: stamping, addressing, prep work
6 weeks out: mailing                     
Written by Wendy Wade of Weswen Design; Photo Credit: Astrid Photography