Rainy Day Hairstyles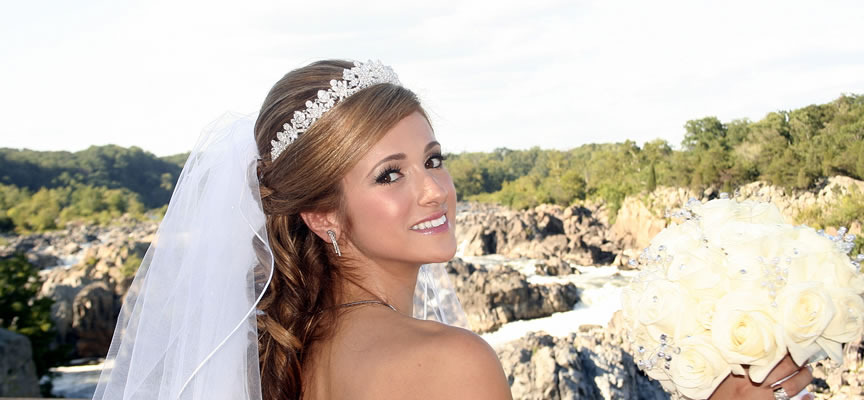 With hot, humid and rainy weather a culprit for ruining hairstyles, I reached out to friend Leslie Greene - instructor at Int'l Dermal Institute/Dermalogica and Owner of Leslie Greene, freelance hair spa in Reston, Virginia – for her thoughts on how she handles these challenges. Here are Leslie's ideas for doing your own hair or working with a stylist.
Like building a house, a strong foundation is key to a durable hairstyle. That means proper preparation. Use a light-medium, non-sticky styling spray before curling your hair, then let the hot curls set (cool). This is the ideal preparation for a lasting, frizz-free 'do.
Bottles of "strong hold" hairspray actually ruins the style by weighing it down, making it look icky, stealing the hair's natural shine, and melts sticky gross gunk all over your face, neck and back should you sweat or step out in humid weather. So it's best to finish the style with a light-medium misting of spray, held about arm's length away. Up close, the aerosol is too concentrated and can shoot globs of hairspray.
If you're concerned with frizzing out or the style not lasting, consider an up-do. A modern, less fussy look, or a soft, wispy, romantic style, displays much less "disaster" from humidity. And it has so much character!
Braids are great options, too! They can add personality to any style. Many bridesmaids and flower girls request braids to keep hair off their faces and showcase unique styles. 
If you're going to work with a pro, bring a few pictures of style inspiration, but don't expect an exact replica. Pros are creative and want to personalized each hairdo. Jessica Alba's bobby pinned hairstyles are a hit for special occasion hair, and Reese Witherspoon's up-dos are also a popular inspiration.
Thank you Leslie for your help with this post! If you have any questions or would like to contact Leslie, let us know!
Written by Nicole Fitch; Header Photo Credit: Rothwell Photography