Unveiled

The tradition of wearing a bridal veil dates back to the Roman and Greek empires. A thin yellow or red veil symbolized a bride's purity, and was worn to ward off evil spirits. It was also protection from the groom, as it was bad luck if he saw his bride before the wedding ceremony.
Today, veils are often perceived as traditional, attractive and fashionable. As a modern bride, you have a variety of veil options. You can wear a more traditional chapel or cathedral veil that extends to the floor and beyond.
Or you can opt for a fashionably chic birdcage veil with short, stylish lace that only covers your face.
Then there are medium-length veils that reach your shoulders, elbows or fingertips.
Aside from the length, consider the layers and edge finishes of a veil. A single layer veil is less formal than a triple layer veil. Likewise, a plain edge is simpler than a scallop or rippled edge. Beads, sequences and ribbons can dress up the edge of a veil.
Or you can ditch the veil altogether and wear a flower or jeweled hairpiece instead. If you tend to be more unique than traditional, this might be the look for you. And you don't have to worry about whether the veil looks better above or below that gorgeous updo.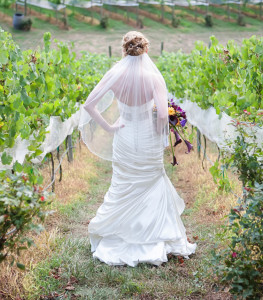 Heather Bee Photography
Choosing the veil or hairpiece that best fits your personality and style can add the perfect touch to a perfect day.
Header Photo Credit: Inspired Photography by Susie and Becky