Wedding Websites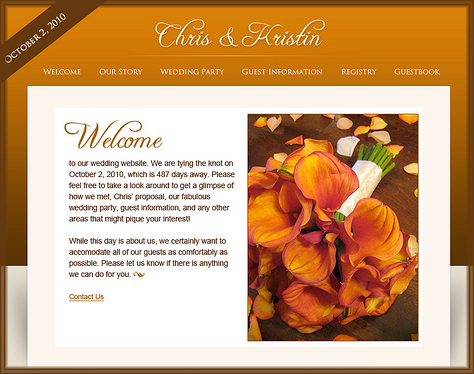 Wedding websites are popping up all over the internet, with photos, stories and wedding plans of newly engaged couples. These personalized sites offer a modern, viable method of communication between the bride and groom and their guests. There are hundreds of website template designs spotlighting the following:
a couple's wedding ceremony and reception date, time and location
directions
registry information
a digital guestbook
an RSVP section
photo album
stories about the couple
Many couples welcome the opportunity to share wedding plans online. Their website displays details not always found on an invitation, such as attire recommendations, registry links and hotel 
information for out of town guests. When more information is available to guests, they ask fewer questions, resulting in more time and energy to plan a wedding.
Since a website is dynamic, information updates and changes can be made with just the click of a button. Changes due to weather or an emergency can be added to the website in minutes. This decreases the pressure of knowing all the details before sending out save the date notices, as updates can easily be posted on the website.
Couples with a budget in mind can save money on RSVP card and envelope printing costs and postage stamps by requesting RSVPs through the website. Guests can visit the site, click on the RSVP link, select their names, and check yes or no for attendance. This can save over $100 and prove to be eco-friendly at the same time.
Check out templates at the Knot, weddingwire and Wedding Paper Divas, then tell us what you think about personalizing a wedding website.